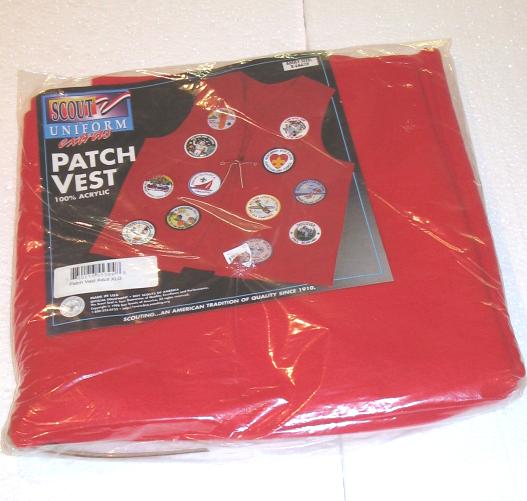 Still another adornment, that is popular with Cub Scout boys is what is known as the "Patch" vest (also known as the "Brag" vest). This is a red vest that is used to hold all of the patches the boy received during his time in Cub Scouts (Note: this vest in NOT considered a part of the official Cub uniform).
These patches could be from any sort of special event (i.e. Jamboree, etc.). These vests can be especially fun for the boys when they go to special events where they can show off their patches to the other boys.
The decision to purchase a vest (or make the vest), and attach the patches, is left up to the parents of the child. The vest pattern may be available from another Den Leader or Advancement Chairman (ask around). These are sold by the Scout shops such as ScoutStuff.org and they cost about $12. The patches are sewed on in any way that you want, in any order or placement that the Scout desires. The red vest may be worn at any time on top of the regular uniform. I have not seen many Scouts wearing these vests but I did buy them for my sons but so far the patches are not sewn on. My boys have expressed that they don't want to be the only ones wearing the red vest and that is why so far they are not wearing them. The boys whom I have seen wearing them were at Council sponsored camping events, they are not people in our own Pack.
This information was found at http://www.scouting.org/media/insigniaguide/03.aspx
Excess Insignia
With the exception of the Cub Scout badges of rank and ?Arrow Points, members wear only the insignia that show their present status in the movement. Members should make every effort to keep their uniforms neat and uncluttered. Previously earned badges and insignia not representing present status make a fine display on a BSA red patch vest, a trophy hide or blanket, exhibited in the home of the recipient, or at functions where such a display is invited. Members may wear only temporary patches (no badges of rank) on the back of the merit badge sash. Members may wear only one merit badge sash at a time. A merit badge sash is never worn on the belt.