Corn Bags Heating Pads how to do it yourself
from
http://www.agentlestrength.com/microwavable-heating-pad/corn-bags-heating-pads-how-to-do-it-yourself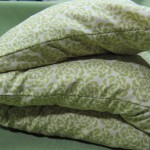 What are Corn Bags? Corn bags are a common term for natural heating pads, or warmers that are filled with dried corn and heated in the microwave for moist heat therapy.
They are also known as microwavable corn pillows, and corn heating pads. Corn Bags are easy to make using basic sewing skills.
. click on pictures to enlarge and show more detail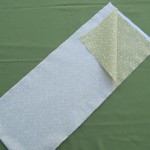 An easy way to make a corn bag is to tear off an 8 inch strip of 44″ inch wide cotton fabric.
Fold in half lengthwise, right sides together, so that now you have a 8″ by 22″ rectangle.
Sew the two long edges shut with a one quarter inch seam allowance.
Fold down the open edge one half inch and press.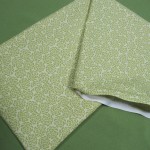 Now turn the bag right side out and sew a seam directly down the middle lengthwise, stopping and starting 2 inches from each end.
This forms a partition that helps keep the corn evenly distributed.
Usually one long lengthwise partition will make your corn bag drape and conform better then several short crosswise ones will.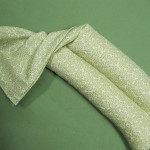 Now its time to fill with dried corn.
Be sure not to overfill, it is easy to do, usually about 2/3 full is about right.
If your corn bag does not conform well to your body and just sets on top like a bag of rocks, it means you have it overfilled.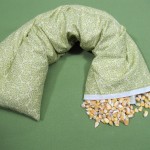 You can pin or baste the opening closed so that you can experiment a little with how full you want it, try draping it around your neck and so forth to see if it molds well. When you are happy with how full it is, sew the opening shut, close to the folded down edge.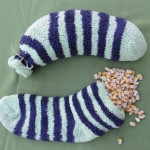 For an almost instant corn bag, simply fill a large sock with dried corn leaving just enough room to tie off the end. The stretchiness of the sock, allows the corn to conform well to your body even with a full sock. I like to tie off the end first with a rubber band and then with a ribbon or cord, that way if one fails, you have a back up.
These sock corn bags also make excellent, cheap bed warmers for cats and dogs. And its a must have for a new puppy in the house that must sleep alone for the first time.
How long do I Microwave my corn bag? The amount of time depends on your microwave, what kind of filler you used and how much filler is used, so you will need to experiment a little to find the right amount of time. Start with about a minute and increase the time 30 seconds at a time until it reaches the desired temperature, then you will know how long you can heat your heating pad in your particular microwave.
Dried corn is available at feed stores or garden stores. Usually it is called feed corn or deer corn, and often has pieces of cob and other debris mixed in, some dried corn will be cleaner then others. You can pick out the pieces of cob and shake off the excess dust to clean the corn or look for "double cleaned" or "triple cleaned" corn. Do not use cracked corn, as it dries out to fast, and do not use popcorn because, well, you know why.
If you do not have the time to make your own corn bags, you can order one (or more!) of our Hemp Heat Pads and fill it with your local dried corn.
Our all natural Hemp Microwave Heating Pads can be filled with dried corn or any other grain or seed for inexpensive moist heat therapy. You save money by ordering an empty heating pad and filling it yourself. And if dried corn is easily available in your area, it may be the perfect choice for a filler.
Dried corn holds heat well and produces a moist heat. After repeated and prolonged use, the corn will dry out and need to be replaced, but that is easy to do with our refillable heat pads. You can compost the old corn or simply toss it out on the lawn for birds or other creatures.