"We should bear in mind that the success of a given activity cannot always be judged by its size. Rather, it must be judged by its effect on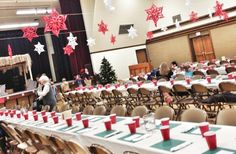 the lives of those participating."
President James E. Faust, Second Counselor in the First Presidency, "Strengthening the Inner Self," Ensign, Feb. 2003, 4.
Activities at the ward, stake, and multistake levels bring Church members together as "fellowcitizens with the saints" (Ephesians 2:19). In addition to providing fun and entertainment, activities should build testimonies, strengthen families, and foster unity and personal growth.
Activities strengthen members by giving them a sense of belonging and mutual support. Activities should help members feel connected to others their age, to their leaders, and to their families. Activities should also help members see how living the gospel brings "the joy of the saints" (Enos 1:3).
Church activities should be planned to fulfill gospel-centered purposes. In addition to the general purposes mentioned above, these include:
Participating in service projects that bless others and build community relationships.

Developing talents and appreciation for cultural arts.

Improving fitness and learning sportsmanship.

Gaining education and vocational training.

Celebrating special occasions and commemorating Church or local historical events.

Developing leadership skills.

Developing self-reliance.

Participating in missionary work, retention, activation, temple work, and family history work.
Responsibility for Planning Activities
Before planning an activity, leaders consider the spiritual and temporal needs of members. Leaders seek the guidance of the Spirit to determine what kind of activity would help meet those needs. Careful planning is necessary to ensure that activities accomplish gospel-centered purposes and meet the needs of those who participate.
Under the direction of the bishopric, the ward council oversees the planning of ward activities. When an activity is for a specific organization or group in the ward, it is planned under the direction of the priesthood or auxiliary leaders who are responsible for the organization. When an activity is for the entire ward, the bishop may assign responsibility for it to one or more organizations represented on the ward council. He may also assign responsibility for an activity to other individuals or to a committee, working under the direction of the ward council. Normally these assignments are temporary for a specific activity.
In my humble opinion:
So what does this mean for Activities Chairman and committee, well everyone is released, how will this work now? Well here is my take on what I think may happen, now remember this is just my opinion.  It is very simple, just as it has ALWAYS been, the ward council should decided what the ward needs and what can be done to help the ward,  it is not meant to give more work to members of the ward council, it is meant to give them the responsibility of knowing what the members of their ward or branch needs.
If an activity is needed the Bishop will then ask a member of the ward council to over see that activity or ask a member to oversee it. Does that mean they will come and say "do this certain program" maybe……. but I think it will be more like, "we need an activity to help strengthen the members in the gospel" or we would like a "Christmas Party", or we need a "service activity" then the person asked can come up with some ideas of how do that, they can still look for ideas on web sites, read ideas from email lists, or talk to others, it will just mean that instead of a committee coming up with ideas, the Bishop will assign a topic. My guess is the same people will be involved in pulling off the activity, it will just be an assignment instead if a calling!

---
"Some of my thoughts and ideas on Ward Activities"
Here are some idea's of things we have done and I have not written all the info about it yet, or things I have been thinking about doing, I am sure some of you have done some of these things, if you you would like to share, how your activity went and would like to share it with others, please email me!
Boxed Dinners - have the couple pack a dinner including sliver wear and plates etc, and then everyone places their box on a table and you can either bid with fake money, or just have everyone pick on and then eat, no peeking on what is in side the "box" it is always fun to see what people do, I mean it is a great lesson on judging things by there appearance. Some have put a REALLY nice dinner in a old torn up dirty brown paper bag, others made a really fancy box, nice ribbon etc and there was peanut butter and jelly sandwiches inside, some bought food, others made it. Then you just eat and enjoy each others company
New Joseph Smith Evening: there are lots of reader theaters out there on Joseph Smith, or you can make it fun and play games that he did (stick pull etc) we I also put together a Joseph Smith Trivia
Picture Game
Pot Luck Dinners
Adult Firesides- we have these about every other month, the ward LOVES them, we have members speak, we have them on Sunday evenings, at peoples homes. IT is casual, with refreshments and visiting after. We have had talks on: Service, Families, Being Happy
Sports Night (just an idea I am not sure what I think of this yet, any idea's??)
Family sports night, kick play, parents against the kids, or something like that!
Our annual Fundraiser- Family Bake Sale and Auction
Adult Cookout Dutch Oven Cookout, we head out to some open land, and have Dutch Oven cooking and a small program
Breakfast / Easter Egg Hunt - FamilyDone at the local park, GREAT missionary tool, we invite everyone around us, we have a few games, like egg toss, a relay game. a place for them to dye eggs. We have the YW came and help hide the eggs earlier, we put some out just in the grass for the little one's to find. I think we have broke up the ages this way, 0-3, 4-7 and then 8-11. We have had pancakes, and we have had everyone bring something for a "continental breakfastt"
Adult Game Show Night
Ward Camp out, we try to have these every year, LOVE THEM!!!
4th of July Breakfast / Flag raising ceremony, you would be surprised how many people do come. You could invite you local Fire Department for breakfast, your scouts can do the Flag Raising, have a trivia game on facts about the USA
Family Swimming PartyWe rent a local pool for 2 Hours GREAT TURN OU
Adult Water Game Night
Annual Fall Festival, This is a BIG missionary tool, we have done it for years and tons nonmembers come
Ward Service Project
Breakfast with Santa
Adult Christmas Dinner , one thing you can do, it have different ward members set a nice table and be the host of the table, it makes the decorated really easy.
Adult or Family Pinewood derby
24th of July party
Play in the Park: In the cooler months, which is winter in AZ we have Park Day on Wednesdays from 11 am to whenever, Mom's (or Dad's I guess if they wanted) meet at a park (in one of the subdivisions) and eat lunch and let the kids play and the adults visit.
Open Gym: I want to start, "Open Gym" ( must be accompanies by an adult, we don't want a bunch of teenagers to show up to play ball) This is to replace Park Day, since it is to hot to go out side here, but it is like winter in other States and we are trapped in the house, I thought we could open the Gym at the church to let the kids ( I would guess around Primary age) run around, play ball, scream, get it out instead of doing it at home.
I think a STAKE Road show would be so much fun!
Someone asked: I am looking for ideas how to use bandanas as table decorations for a Chili Cook-Off ward party? Here are some of my thoughts, if anyone else has any ideas, please email me so we can share them with everyone!"When I think of a chili cook-off, I think of cowboys........the bandanas, how about getting cowboy boots, one boot per table, have the bandanas sticking out of the boot with some wheat sticking out , does that make since?? We did that once for a cub scout dinner.Or how about use them as place mats, or use them to tie up the silverware, they would be your napkins, tie them around each cup, use then as toppers on top of the table cloth.............. just my brain thinking!
PREVIEW OF MAIN PAGES