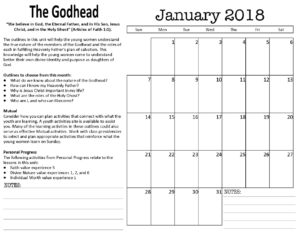 Here are some calendars I made for our Young Women Leaders, the calendar is a bit small, just just write with a pencil and write small and it should work fine. So far it is working great for us.
The information on each calendar is the info for that months Come Follow Me Topic from LDS.ORG, this way when planning activites or lessons you have all the info right on one page, it come in handy when doing lesson planning.
Please note, that the church add's and takes away some lesson from the site, so these lesson outlines can change. My plan is to check every month and see if they have changed anything, if they have I will update that months calendar. So please check back often, I will make a note if and when it had been updated!
If you focus on a value each month, just print each calendar in that value color, or just to spice up the look 🙂
I have all of 2017 and 2018 up, but remember, they may need to be updated, Please note something very important, that the church is always updating the outlines, so please are check the church's web site.
https://www.lds.org/youth/learn/yw?lang=eng
---