How does Heavenly Father want me to use my spiritual gifts?
Spiritual gifts are blessings or abilities that are given by the power of the Holy Ghost. As children of Heavenly Father, we all have spiritual gifts. God gives us these gifts so that we can serve others and help build His kingdom. He has commanded us to diligently seek out and develop our spiritual gifts.
Download helps:
Printing an image step by step
Download handouts by clicking on link below the image you want, save that link or that image that opens. Do not save the Preview image which you see below, it is not a high resolution image.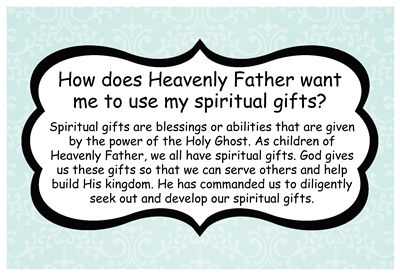 How does Heavenly Father want me to use my spiritual gifts.jpg3.29 MB
---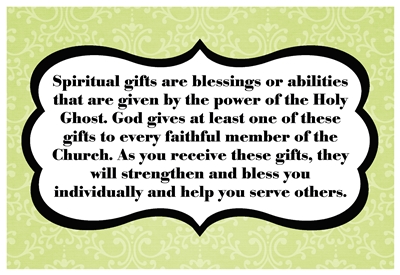 Spiritual gifts are blessings.jpg3.21 MB