Why is work an important gospel principle?
The Lord has commanded us not to be idle. Developing the capacity to work helps us contribute to the world in which we live. It brings an increased sense of self-worth. It blesses us and our families, both now and in the future.
Helps with handouts
Printing an image step by step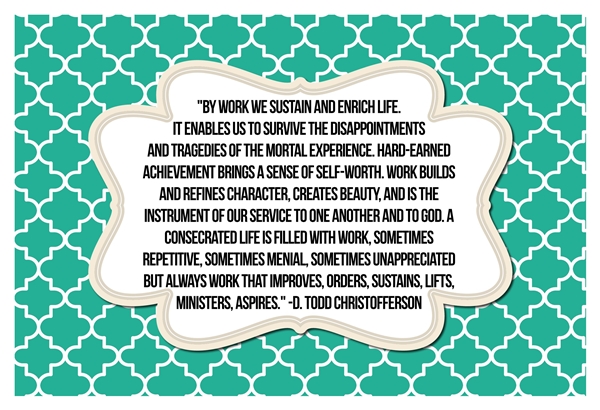 Here is another great talk from President Gordon B. Hinckley
There is a cute handout that you give with a load of bread at this link: CLICK HERE
---
What scriptures and talks will help the young women understand why work is an important gospel principle?
Genesis 3:19; Galatians 6:3–5; 1 Thessalonians 4:11; Mosiah 10:4–5 (We are commanded to work)
Proverbs 31:27; Alma 38:12; D&C 58:27; 60:13; 75:29 (Do not be idle)
Moses 1:39 (God's work and glory)
Dieter F. Uchtdorf, "Two Principles for Any Economy," Ensignor Liahona, Nov. 2009, 55–58
H. David Burton, "The Blessing of Work," Ensign, Dec. 2009, 43–46
"Work and Self-Reliance," For the Strength of Youth (2011), 40–41
"Happiness in Family Life: Work"
Video: "Easily Guided"