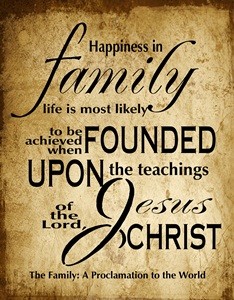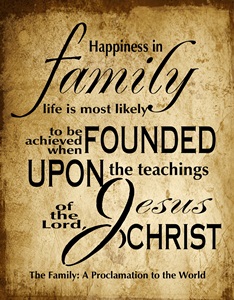 The Proclamation and the World
(intro, centrality of family in the gospel and other faiths, oppositional world philosophies)
Proclamation Paragraphs: 1-9
A History of the Family Proclamation Volume and Course by Hawkins, A.J.
Is the Gospel at Odds With Self-Esteem? and the sequel May You Confidence Wax Strong by H.Wallace Goddard (Meridian Magazine, 1999)
More links on other sites
Marriage and the Solemn Responsibilities of Husband and Wife
(elements of enduring marriage, successful preparation for marriage, equal partnership)
Proclamation Paragraphs: 1, 6, 7,
Eternal Marriage by Howard, F.B. (Ensign, 2003, May)
Timing by Oaks, D.H. (BYU Devotional, 29 January 2002)
"Here Am I, Send Me" by Ballard, M.R. (BYU Devotional, 13 March 2001)
Dr. Dave Dollahite's Ten (or 100+) Tips for More Meaningful Marriages
50 Similarities to consider in preparing for marriage from Dr. Neil Clark Warren
Spiritual Weddings (ideas from BYU students on making weddings a more spiritual experience)
One Year of Married Dates (YearOfMrgDates.doc)
This is a MS Word file formatted to print a small booklet. To use it as a booklet:
1. The cover (first page) can be printed separately (on cardstock) and cut in half (bottom half can be discarded).
2.The guts (the last two pages) can be printed back to back (a single double-sided sheet), cut in half, folded and stapled or stitched into the cover.
3. Booklet fits well in an invitation sized envelope as a quick and simple gift.
Defending the Sanctity of Life and the Sacred Powers of Procreation
(protecting the covenant of chastity, confronting abortion, homosexuality, related issues)
Proclamation Paragraphs: 2, 4, 5, 8
Of Souls, Symbols, and Sacraments by Holland, J.R. (BYU Devotional, 12 January 1988)
Fulfilling the Sexual Stewardship in Marriage by Brotherson, S.E. (www.meridianmagazine.com, 2003)
I Have A Question: Gospel "Family-Planning" by Ellsworth, H. (Ensign, 1979, August)
Weightier Matters by Oaks, D.H. (Ensign, 2001, January)
US Abortion Statistics (US_Abortion_Statistics.doc)
US Casualties Charts (Comparing War & Abortion) (abortionchart.doc)
Abortion Risks (HiddenRisksAbortion.doc)
1st Trimester Ultrasound (88% of abortions happen in the 1st trimester. This is Mya Gilliland at 12 gestational weeks.)
2nd Trimester In-Utero Surgery Photo (This is the famous hand of Samuel Armas at 21 gestational weeks during a unique fetal surgery to correct his spina-bifida.)
Principles of Proclamation-based Parenting
(nature of children, role of parents, applying principles, evaluating secular parenting models)
Proclamation Paragraphs: 4, 6, 7
Are We Not All Mothers? by Dew, S.L. (Ensign, 2001, November)
A Prayer for the Children by Holland, J.R. (Ensign, 2003, May)
Family Foundations: The Teachings of Jesus Christ, Faith, Prayer
(truly making Christ the center of marriage/family, avoiding accidentally centering otherwise)
Proclamation Paragraphs: 3, 7
The Importance of the Family by Perry, L.T. (Ensign, 2003, May)
Family Foundations: Repentance, Forgiveness, Love, Respect, Compassion
(applying gospel principles specifically to the messy issues of marriage and family)
Proclamation Paragraphs: 6, 7
Forgiveness Will Change Bitterness to Love by Sorensen, D.E. (Ensign, 2003, May)
Forgiveness: Part of Healing by Walton, E. (AMCAP Journal, 1998, 23(1), 71-95)
Corrie Ten Boom on Forgiveness
Family Foundations: Work and Wholesome Recreational Activities
(home as the sacred center of family life, joy in daily family life and family rituals)
Proclamation Paragraphs: 6, 7
Maternal Gatekeeping (Maternal_Gatekeeping.PPT), a presentation put together by Dr. Alan Hawkins on the issue of mothers/wives preventing fathers/husbands from being involved in housework and childcare.
Adapting for Individual Circumstances and Extended Family Support
(role of extended family, single adults in a family world, divorce and blending families)
Proclamation Paragraphs: 7, 8
The Golden Years by Packer, B.K. (Ensign, 2003, May)
Divided Loyalties: The Challenge of Stepfamily Life by William Doherty (CMFCE Listserve, 24 May 1999)
When Strangers Become Family by Wray Herbert (CMFCE Listserve posting of US News Cover Story, 29 November 1999)
Adversity in Family Life and the Crucible Perspective
(when family strays from the ideal, understanding issues of abuse, illness, death, other losses)
Proclamation Paragraphs: 3, 7, 8
Dear Are the Sheep That Have Wandered by Faust, J.E. (Ensign, 2003, May)
Warning Sings of A Potentially Abusive Person
Sibling Abuse (SibAbuse.PPT), a presentation put together by Dr. Alan Hawkins
Religious Not immune to Abusive Situations by Jared Cowley (The Daily Herald, 5 June 2002)
Answering the Call of the Proclamation: Promote Those Measures
(helping to strengthen other marriages and families in a variety of big or small ways)
Proclamation Paragraphs: 9
Geneva Declaration and Geneva Youth Declaration drafted at the World Congress of Families II
Families and Democracy Model (FamDemocracyOverview.pdf)
A Comparative Look at US and Sweden Family Leave Policies (FMLAvsSweden.doc)
Report of State Policies to Promote Marriage, 2002, US Department of Health and Human Services
Marriage as Public Policy by Lichter, D.T. (CMFCE Listserve, 15 December 2001)
Here are a couple other excellent places to find additional resources on Proclamation topics:
If you're interested, my FamLf 100 lectures include some additional quotes, stats, references, etc. The course syllabus there also has some great application exercises.
BYU's "Marriage and Families," (http://marriageandfamilies.byu.edu) the free School of Family Life magazine that publishes "lay" versions/summaries of excellent family research. You can read articles on-line or order your own printed subscription.
Forever Families (http://foreverfamilies.byu.edu/) is another project of the School of Family Life to share information related to the Proclamation. There are mini-articles on Proclamation topics written for both secular and LDS-specific audiences.
Meridian Magazine (http://www.meridianmagazine.com/) is an independent LDS site that often posts very good articles and stories on marriage and family themes. I most highly recommend the "Myth of the Month" articles, written by Wally Goddard dispelling dumb thinking mostly about marriage, parenting, and family life. You can access archives of his articles, some of which are extremely insightful and enlightening.
Smart Marriages (http://www.smartmarraiges.com/) is a site is run by the Coalition for Marriage, Family, and Couples Education (CMFCE) that hosts the annual "Smart Marriages, Happy Families" conference (usually in Washington, D.C.) You can sign up for the listserve that sends out tons of articles and stats and headlines about important marriage related topics, find programs and professional resources, and search archives of information by topic.