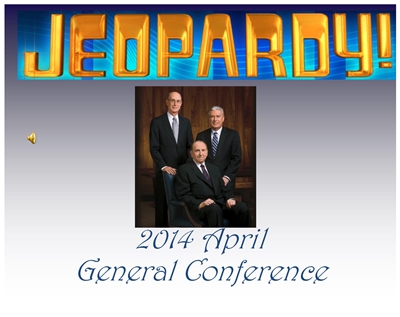 April 2014 General Conference Jeopardy
This is shared with us from Eric D.Richards, who has also shared some great lesosn helps form th eBook Mormon, Learn more about him here:
Book of Mormon Teaching Ideas (Power Point Presenations for Seminary and Institute Lessons by Eric Richards)
---
I am working on the April 2014 General Conference Scene It game like I had for last Conference. So check back in a week or do. Here is the last one General Conference Scene It (Oct 2013)
April 2014 GC Jeopardy
---
Here is a preview look at it in a PDF format, please download from link above.
{edocs}/images/Gen Conf/April 2014 General Conference.pdf,700,500,{/edocs}
Helpful pages:
{module Helpful Pages!}