EVERYTHING UNDER THE SUN
I am so excited to have obtained permission from Sis DeWitt, to offer a copy of the firesides Sis DeWitt gave on Food storage, as well as the booklet "Everything Under The Sun" which goes along with the fireside.
PLEASE NOTE THAT, this site is not run by Sis DeWitt, if you would like to contact her you can go to her blog at http://www.everythingunderthesunblog.blogspot.com/
Booklet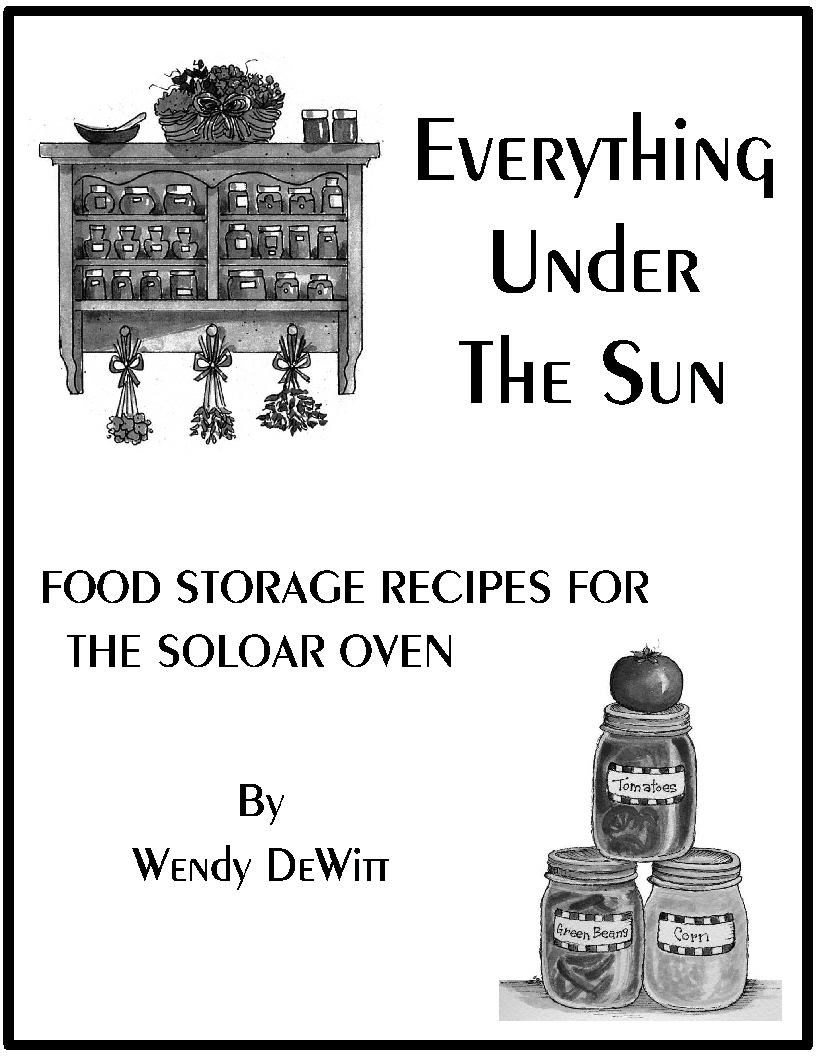 I received the latest copy of Wendy booklet from her on 5/01/2010, so it is pretty up to date.
This booklet is now only 18 pages (it use to be 28 pages Wendy said she had to trim it down for BYU so most of it was condensing the recipes into one liners instead of the standard one line for each ingredient. I also took out some outdated info. ). It is full of information on canning /canning meats, food storage and recipes for cooking in the solar oven and about solar ovens.
---
THE FIRESIDE
You can watch clips of the fireside by clicking here and you will find more information on how to download this fireside, it is almost 1.20 GB so it is a VERY large file.
The movie clip is one of the firesides she gave, it was taped in 2005, it is about an 1 1/2 long.
Sis DeWitt, was an area specialist in Arizona for over 5 years, she went around to different groups (HFPE) and gave a fireside on food storage. I personal think it is the best presentation on Food Storage I have ever heard.

everything_under_the_sun_2010_word.pdf306.64 KB

everythingunderthesun_cover.pdf201.14 KB
---
EVERYTHING UNDER THE SUN
Putting the Foods You Love Into Food Storage
by Wendy DeWitt
everythingunderthesunblog.blogspot.com
What's for dinner? An age old question. But in times of crisis, that question becomes even more significant. Experience has shown that when disasters hit, having a supply of food and water can be life saving. But it doesn't take a natural disaster to need food storage. Personal economic disasters happen every day and the choice to pay the mortgage or buy food becomes a reality. It is essential for every family to have food storage in order to survive whatever crisis may be ahead.
There are many questions and concerns about food storage. What should you buy? What will it cost? Where do you store it? How do you cook it? What about rotation? The following information answers all of these questions and more. It will give you the knowledge you need to put the foods you love into your food storage.
---
Here is a small sample of what is in the book
INDEX
Alfredo Sauce (almost)

16

Graham Crackers

18

Apple Crisp

17

Granola

10

Beef and Beans

11

Grapefruit bottled

18

Beef Soup

11

Jar Cakes and Breads

6

Beef Stew

11

Macaroni (cooking)

16

Bottling Meats

4

Macaroni and Cheese

14

Bread (365 loaves)

9

Marinara Sauce

16

Brownies

17

Magic Heat

6

Butter

5

Milk variations

6

Cheese (canned cheese)

5

Muffins, Oatmeal

8

Chicken Alfredo

11

Muffins, Wheat

8

Chicken Creole

12

Mushroom soup

16

Chicken Delight

12

Oatmeal

10

Chicken Fricassee

12

Rice-a-roni

14

Chicken and Rice

13

Rice Cereal

10

Chicken Soup

12

Shepard
Concerns has been brought up about canning breads and cakes, which she talks about in the fireside, here is an article (click here) about it and here is what she has to say about it.
"I've read several of these links and my booklet gives the same warning…with the comment that since none of these cakes or breads have eggs in them (the ingredient that would sustain bacteria) but have Knox gelatin instead, food poisoning is highly unlikely. But I still give the warning…and I don't include this portion of the booklet in my classes."
In Wendy Dewitt's fireside she talks about a really neat water storage idea that they have at the fireside that night, she notes that it is in the back of the room, but the camera does not show it, what she was talking about, is a rack that holds fifty-five gallon drums of water HORIZONTALLY so the water can be extracted simply by turning on a faucet. No pumps, no siphons.