A Time to Prepare
We must devote our time to the things that matter most.
This is a great conference talk from October 2011 by Ian S Arden, the whole talk is great, but these handouts I made if more based on electronics and services.
http://www.lds.org/general-conference/2011/10/a-time-to-prepare?lang=eng
I especially love this paragraph, I REALLY need it!
"There is much that is good with our easy access to communication and information. I have found it helpful to access research articles, conference talks, and ancestral records, and to receive e-mails, Facebook reminders, tweets, and texts. As good as these things are, we cannot allow them to push to one side those things of greatest importance. How sad it would be if the phone and computer, with all their sophistication, drowned out the simplicity of sincere prayer to a loving Father in Heaven. Let us be as quick to kneel as we are to text."
DOWNLOAD HERE
Download
---
This quote comes from this paragraph.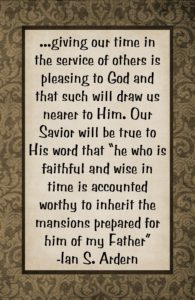 I am grateful for President Thomas S. Monson's model. With all that he does as a prophet of God, he ensures, as the Savior did, that there is still sufficient time to visit the sick (see Luke 17:12–14), to lift the poor in spirit, and to be a servant of all. I am also grateful for the example of many others who give their time in the service of their fellowmen. I testify that giving our time in the service of others is pleasing to God and that such will draw us nearer to Him. Our Savior will be true to His word that "he who is faithful and wise in time is accounted worthy to inherit the mansions prepared for him of my Father" (D&C 72:4).
Download
---