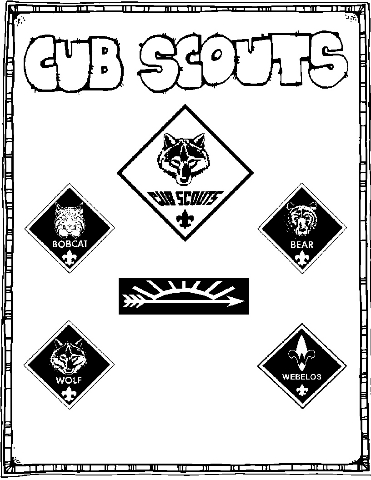 We have a Cub Book that we give to each boy as they enter the cub program, it is in a 3 ring white binder, we use the kind that has the plastic sheet on the front that you can put a paper in it to make the front cover, when I give it to them the top one is for cubs, but behind it is the one for Boy Scouts, when they enter the Boy Scout program at 11 they can change the front. On the side it say's Scouts and at the bottom is their name. This book is really good for people who no nothing about the Scout program, it gives the basic steps of the cub and scout programs, and some helps.
In the back of the book I put an extra pocket and a plastic baseball card holders sheet, this is just the right size to hold the cards that the pins and badges come on, this is a great way to keep record and proof of receiving these awards.
This is the one book they need for all their years in Scouts, they can keep all the info they need, papers they get, and have it all in one place. I have also included a basic Eagle Project Packet.
I have added in pages that go with the new Faith in God award program which is for LDS Packs. To see more Faith in God stuff click here
I hope someone can find an us for this info!
If you have any questions or ideas of things to add to this, please E-mail me! Thanks
E-mail me at: info@theideadoor.com
IMPORTANT:
Because of the size of this file (it's 32 pages long) and depending on how you are connected to the Internet, (dial up or cable) this will greatly impact the amount of time it takes to open this file!
OK SO.......
With the new changes to the scout program, it means changes to the book, I think I covered everything, but please, take a look and see if it looks like we got it all in there!
Here is another version of the cub booklet, it starts with the Tiger program for those packs that start with that group. It is also in color. This was put together by Edward W. Hainsworth, Fire Captain Navy Region Mid-Atlantic Fire & Emergency Services Philadelphia, PA

cub scout booklet tiger-webelos.pdf2.72 MB