Homemade Mod Podge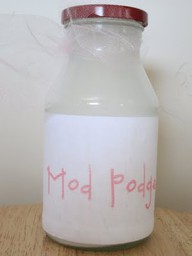 As with anything there are always a few different ways to do something
Modge Podge Glaze Mix 3 parts white glue (elmer's or any cheap brand) to 1 part water.
Add more or less water to get the desired texture and thickness.
Add 2 Tbsp. varnish, for shine. Put into container with screw on lid.
Homemade decoupage:
To make your own decoupage medium, simply mix together equal parts of water and white craft glue, such as Tacky Glue. Mixture should be milky and a little thick, not too runny.