EASTER WEEK – Booklet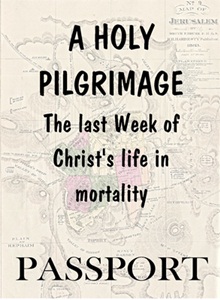 Print this book out then cut the pages in half Horizontal and the fold the pages together to make a booklet of the last week of Christ's life.
This passport / booklet was used at a ward activity where we went from room to room, each page was represented, each room was decorate someone what or pictures of the event, or they had something to look at that had to do with that room. And someone talked about each event. Then they were given a stamp in the booklet.
We started together then broke up into smaller groups and rotate through the building going to different rooms.

easter fireside passport.pdf27.1 MB
This is a view of the passport, but it is NOT a good copy, please download it from the link above
{edocs}/images/Holidays/Easter/easter fireside passportsm.pdf,600,300,{/edocs}