Paper Plate Angel Craft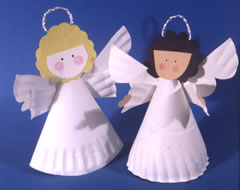 Material needed for Angel Craft
* scissors
* paper plate
* glue or stapler
* paper
* crayon or marker
* tape
* aluminum foil
Instructions for your Angel Craft:
How to Make It:
1.Cut a paper plate in half. Roll one half into a cone. Glue or staple it to secure it.
2.Cut arms and wings from the other half of the plate. Glue them to the cone.
3.Cut a face, hands, and hair from paper. Glue the hands in place. Decorate the face with crayon or marker, then glue the face and hair together. Tape them to the top of the cone, putting the tape in back so it won't show.
4.To make a halo, twist a 5-inch-by-3/4-inch strip of aluminum foil into a thin "cord," then curve it into a circle shape and twist the ends together. Tape it in place at the back of the head.