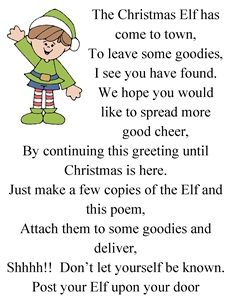 The Christmas Elf has come to town,
To leave some goodies, I see you have found.
We hope you would like to spread more good cheer,
By continuing this greeting until Christmas is here.
Just make a few copies of the Elf and this poem,
Attach them to some goodies and deliver,
Shhhh!!  Don*t let yourself be known.
Post your Elf upon your door
So those who continue to spread good cheer.
Will pass you by for someone as dear.
May the true meaning of Christmas ever be near.