This movie clip is something I put together after I heard a talk by Pres Uchtdorf at the April 2010 General YW Conference. I also used a little part of a talk by Pres Eyring from the April 2008 Conference. I felt it was a message many young women could enjoy and learn from. The parts from the talks that are in the DVD are in red. CLICK HERE

This DVD runs 14:40
This video that is on the site for viewing does have a watermark on it. But the download does not.
Click here for screen shots of the process to download a DVD
---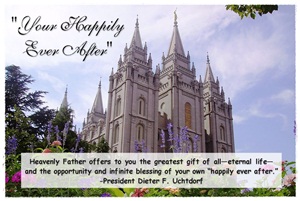 Here is a handout I made to go with the movie that I showed when I taught the Young Women in our ward, just click on the link below to download it.


your happily ever after 4 x 6.jpg561.97 KB